While not often talked about, siding is an incredibly integral part of the home. Not only does siding contribute to your home's exterior aesthetic, but it protects your home from the outside elements. Siding is a barrier of protection that helps to sustain your home's health and durability. That is why the proper installation of siding is so important. Having siding installed is an essential step as a homeowner. That being said, you want to have as much knowledge on siding installation as possible. This guide on siding installation is meant to help you with this process and answer any questions you may have.
Siding Installation Facts
What is considered the best material for siding?
Vinyl is by far the most popular choice for siding amongst homeowners. Vinyl is a highly durable form of plastic. In addition to being affordable, it's typically installed with rigid insulation resulting in energy efficiency.
When is the best time to install siding?
Seasonality can affect the installation of siding. For example, vinyl contracts in the cold and expands when the temperature is higher. Ultimately, it's important that you hire a professional who has the expertise to deal with these issues.
How much does siding typically cost?
The cost of siding is dependent on the size and shape of your home, amount and type of materials used, additional customization, and labor provided.
What's the best way to pay a contractor for a siding job?
Paying a contractor hourly may not be the best option since unexpected hitches can require them to work longer hours than expected. Keeping this in mind, it may be better to pay a flat fee. But for materials that are not labor intensive, it may be safer to pay hourly.
Finding the Siding Contractor
When it comes to siding installation, you want to make sure that you hire the best contractor for the job. Having said that, the hiring process may seem a bit overwhelming. You may not know where to start. In this section, we'll provide you with some tips on where to begin when it comes to finding the right siding contractor.
It's Best to Go Local
Local Connections:
When installing or replacing siding, there's a possibility that contractors may discover that components of your home have actually sustained storm damage. For example, when you're replacing damaged siding, it's possible that your contractors may come across some faulty wiring that will have to be repaired by an electrician. Unfortunately, not every contractor can handle additional, unexpected crises that may pop up in your home. If you've hired a national company to replace your siding, and they run into this problem, it could take them days to find an appropriate professional to fix the problem, thus putting the replacement project on hold. However, if you hire a local siding contractor, chances are they already know someone who can fix the issue for you immediately, allowing your siding installation to run as smoothly as possible. This makes the local connections one of the advantages that local siding experts have over national companies.
Emergency Service:
If your newly installed siding is facing problems earlier than expected, and you previously hired a national company to install it, it could take them days before they can arrive to rectify the issue. This is because as a name brand company, they have other clients they must tend to, leaving you with no choice but to wait for their service. However, if you hire local contractors, and your siding is causing problems, it is likely that they'll be there to handle the issue within a few hours.
Personal Ties to the Community:
Local siding companies have many personal ties to the community, and it's one of the best things that a local contractor can offer. Local contractors are usually more involved with their clients so there's no doubt you'll feel that you and your project matter to them. Even after it's completed, the team will still remember you and the siding installation you've hired them to complete!
Signs You Need to Replace Your Siding
As we've established, siding is an important aspect of your home. Siding must be in good condition in order to sustain the integrity of your home. That being said, you must be mindful of the condition your siding is in. If it's in poor condition, then you may need to consider a replacement. So, here are some signs that you may need to replace your siding: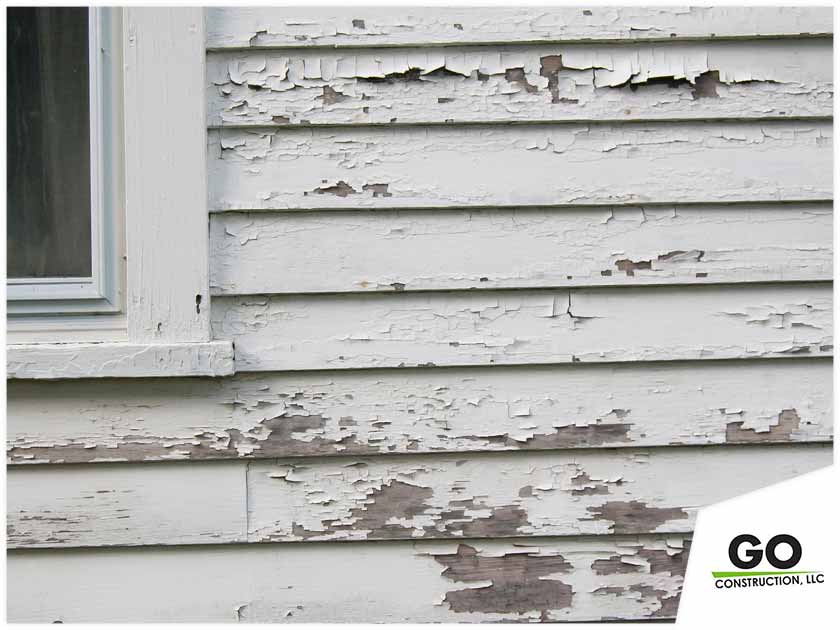 Frequent repainting.
Good-quality siding should maintain its shape and keep its color for at least 8 to 10 years, if not longer. If it is chipping, cracking, or peeling, it is a common indication that there is an underlying problem that needs to be addressed and that a replacement may be due.
Annual energy bills are high.
Of course, it is important to rule out other potential culprits, such as a leaking roof or poor attic insulation, when it comes to high energy bills. But when the heating and cooling costs continue to skyrocket, and the rest of the home is in good shape, it can be a sign that the home needs new siding. Let a siding expert inspect the condition of your current siding and whether there is sufficient wall insulation.
Boards are rotting or warping.
Walk around your property and look for signs of warped or rotten boards. To further inspect it, siding installers recommend poking under the affected area to see how solid the underlayer is. If it has begun to rot or become soft, then an immediate siding replacement is definitely needed.
Mold and mildew growth.
Any type of growth like mold and mildew on a home's siding, especially near the seams, may indicate that moisture is seeping into the surface and causing unwanted organisms to thrive. While not all traces of mold and mildew are a cause for concern, such growth is worth investigating further.
Preparations Before Replacing Siding
After you have chosen to replace your siding, it is advisable that you take a couple of steps to prepare for replacement. Siding installation involves the remodeling of your home, so you want to make sure that you are prepared. Here are just a few preparation tips that we recommend:
Do Your Research:
Before anything else, make sure to thoroughly research everything you can about siding, such as your material options and the colors that are available to you. By doing so, you'll know which material and color suits your home style best, and you can better coordinate with your siding professionals to ensure that the result of your replacement project satisfies you.
Find the Right Contractor:
Of course, while you may have the materials you need, they won't mean much if you don't hire the right siding contractor to install it on your home. With that in mind, make sure that the contractor you hired is capable of installing the kind of siding that you want for your home.
Prepare the Work Area:
Before the project commences, be sure to prepare the work area by trimming the trees near the walls where the siding will be installed to prevent your contractors from being obstructed as they work. Remove any lawn furniture or ornaments as well so they won't be damaged.
How Much Does New Siding Add in Value?
While new siding can give your home a fresh look, it also keeps the interior of your home protected from the outside elements. In the long run, siding not only sustains your home, but it actually increases the value. According to the National Association of Realtors (NAR), it is absolutely worth it for homeowners to invest in exterior remodeling projects, such as siding installation/replacement. According to the 2013 Remodeling Cost vs. Value Report, homeowners recoup a high percentage of their investment on exterior remodeling projects. For example, one can expect to recoup 83% of an investment in new vinyl siding at resale as shown in the NAR's 2015 Remodeling Impact Report.
Even contractors agree that siding is not just a cosmetic upgrade. From their perspective, siding is a way to increase your home's energy efficiency whilst repairing structural damage.
Popular Siding Colors in Pennsylvania
The most popular type of siding in Pennsylvania, by far, is vinyl. This type of siding is typically preferred in darker colors. Of these darker colors, gray, green, and navy blue tend to be the most popular in Pennsylvania. These colors give Pennsylvanian homes a beautiful look!
Contact the Siding Experts at Go Construction!
Go Construction is your go-to when it comes to siding installation and replacement. Whether your siding needs are big or small, we will be with you every step of the way. By choosing us, you are guaranteed superior workmanship and high-quality materials. We pride ourselves on our exceptional customer service. As your local renovation experts, make sure that you and your home are treated with respect and care. Don't hesitate to reach out and see for yourself why we're the best contractors in the region!