Every homeowner knows that the exterior of their home is what makes a statement. Your home's exterior is the first impression people have of your house. Siding, in particular, plays a huge role in the overall appearance of your house. Siding boosts curb appeal as well as adds charm to the exterior of your home. While choosing a siding color is fun and exciting, it can also be a bit intimidating because of its value. Homeowners should pick a color that not only they enjoy but will contribute to the glamour of their home. If you're not sure where to begin, we've outlined several tips below to help you through the selection process and guide you to the perfect siding color for you.
Consider the Style of Your Home
The first point to take into consideration when selecting your home's siding color is its style. There's a range of different home styles that vary depending on the region your home is in. However, most architectural styles of homes were originally built with a palette of colors that they were best suited for. It's crucial to identify the style category that your home falls under because once you find your home's color palette, you can narrow down the number of choices that will look good for siding. Keep in mind that you don't have to utilize the color palette, but it is a good starting point. Here's a list of some of the most common house styles and which siding colors typically work best for these designs:
Craftsman:
These homes are known for their architectural features with gabled roofs that typically have exposed wooden beams or rafters. Craftsman homes usually have wood or wood-like siding so it's common to find these homes with earthy-hued siding.
Colonial:
Colonial homes are recognized for their geometric and symmetrical shapes, with a focal point on the front door. They have prominent windows paired with shutters so colonial homes often feature light-colored siding with darker accents, to help these details stand out.
Victorian:
Victorian homes often resemble dollhouses with their ornate detailing along the porch, gables, and other trim accents. Victorian house siding usually features playful colors such as purples or blues.
Mediterranean:
These homes are influenced by architectural styles found in France, Spain, Greece, and Portugal. Classic Mediterranean design includes sun-bleached exteriors with red tile roofs and enclosed doorways or balconies. Common siding colors include oranges, yellows, reds, and browns on one end of the spectrum, and bright whites and blues on the other.
Contemporary:
Contemporary houses are identifiable by their asymmetrical, low-pitched roofs that coordinate seamlessly with the home's siding. The popular approach is to make these homes blend in with nature. So many of these homes have siding colors chosen from a natural color palette.
Look at Other Homes in the Neighborhood
The first step you should take is checking out some of the other homes in your neighborhood. As you're looking, you should ask yourself questions such as "What color combinations are most frequently used?" and "What colors do you find the most appealing?" You can definitely draw inspiration from the houses in your area, especially those styled similar to yours. Additionally, you want whatever siding color you select to look good in your home's location. This is particularly important if you plan on selling your home. If your home stands out too much from the other ones in the neighborhood, it could negatively impact your resale value.
Think About the Size of Your Home
You should really consider the size of your home. When you look at siding color swatches, you should envision what it would look like on your house. A dark color may seem rich and distinctive, but when painted on a mid-to-large-scale house, it can be gloomy and overpowering. On the other hand, light colors can sometimes prevent a smaller home from standing out in its landscape. A good rule of thumb to remember is: Lighter colors can neutralize features that you wish to de-emphasize, while darker colors draw attention to places you want to highlight.
Take Into Account the Current Trends
When choosing a color for your siding, you should consider some of the latest color trends. It would be helpful to ensure that your home is up to date with the latest styles and has a relatively modern appeal. Additionally, having your siding follow a contemporary color trend can help increase your resale value. In recent years, homeowners have been opting for bold colors and vibrant combinations to make a showcasing statement. On the other hand, many homeowners have geared towards pastels, going for a cheerful vibe.
Check to See How Certain Colors Look Throughout the Day
When you've narrowed down your list of favorite siding colors, you should consider how these colors will appear during different times of the day or of the year. For example, the way a particular siding color looks on a bright sunny day may not be the same as on a snowy winter afternoon. A good rule to remember is that sunlight can make colors feel brighter so it's best to see how a color will look on a not so sunny day. One good tip is to apply swatches of your possible siding colors on different sides of your home for about a week and take a good look at them during all parts of the day: morning, afternoon, and evening.
Choosing the Right Contractor
The selection process in choosing the right color of siding can be long but it does pay off in the end. When you choose the right color, you're ensuring that your home looks as good as possible. Since it plays such an important role in your home's curb appeal, you want to make sure that the job gets done right. That's why it's essential to choose the right contractor. You want to ensure that you get the highest standard of quality installation from the right contractor.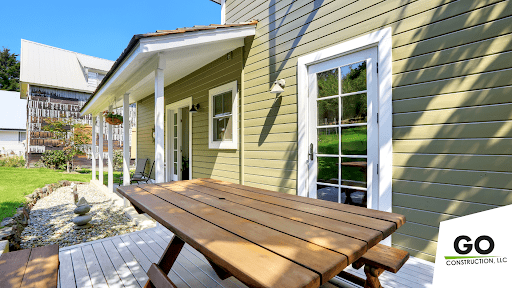 Call Go Construction for All Siding Installation
When it comes to installing your brand-new siding, you want to be rest assured that you've hired the best contractor to do so. Well, your search for that contractor can begin and end right here at Go Construction. When you need new siding, Go Construction is the best choice. Our skilled installers have the expertise and knowledge to help you every step of the way. Not only do we offer high-quality service but industry-leading products as well. Your siding needs will be taken care of. Don't hesitate to contact us today and find out why we're the best in the region!