Roof Installation Facts
Before you begin the roof installation process, it's good to have some prior knowledge and understanding of roofing. Here are some general facts that you should be aware of:
All Roofs Are Not Suited for All Climates:
The roof on a house in a cold, rainy climate will require different roofing materials than a home in a hot, dry climate. So, you should be careful to choose materials that are the most suitable for your environment.
A New Roof Can Increase Your Home's Value:
A new and improved roof is a great selling point for your home. Potential buyers will be more attracted to your home if they see that your roof is in good condition. You'll make more of a profit with a newly installed roof than an old or damaged one.
DIY Roofing is Not Recommended:
When it comes to roof installation, you should contact your local professional roofing company. This is a complicated process so it's better to entrust it with someone who has prior expertise and knowledge. Homeowners who take installation into their own hands risk damage to their roofs and injury to themselves.
There is No Definite Timetable of Installation:
There is no set length of time when it comes to roof installation. The time this process takes is dependent on factors such as the size of your home, materials being used, etc. However, for optimal conditions and an average size home, it's estimated that a new roof generally takes 1-3 days to complete.
Your New Roof is Worth the Price:
The national average homeowners spend to install a new roof is $8,719. This price does fluctuate depending on the square footage of your home, materials, location, etc., with 40% typically going towards materials and 60% towards labor. While this may seem expensive, your roof's performance is an essential function of your home. Roof installation is an investment that does pay off in the long run. It maintains the appeal of your home while increasing its value.
Finding the Right Roofing Contractor
When you decide to go through with roof installation, you'll need to find a professional roofer. You want to ensure that you find a capable roofing company that will work with you and get the job done right. Here are some tips to help guide you in finding the right roofing contractor: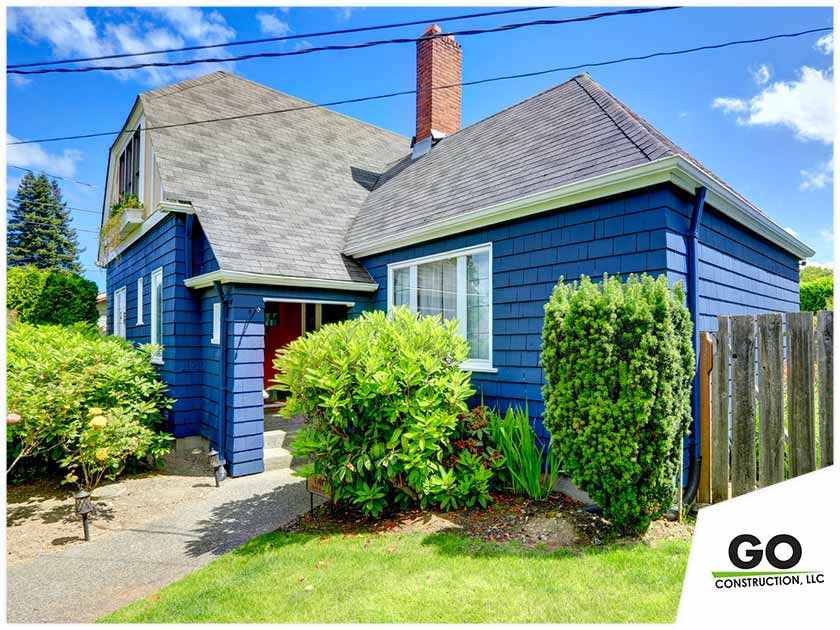 Get a Referral:
Don't be shy, talk to your friends and neighbors who have had work done on their roofs. A word-of-mouth recommendation is a tried-and-true way of finding a reliable contractor. By reaching out and asking questions, you can get testimonials from previous clients to get an accurate assessment of the roofing company's capabilities. This honest feedback can be key in determining whether a roofing contractor is right for you.
Do Prior Research:
Once you've identified a few qualified contractors, you can start investigating each one. You should start by verifying the companies' contact information. Next, look for any reviews or reports regarding these potential contractors. You can even check their references by reaching out to past customers. In fact, we have a post dedicated to this very topic where you can learn more about this. Please be sure to check out our blog "How to Check Your Roofing Contractor's References" for more information!
Meet Them in Person:
After narrowing down the field, you should always meet with your potential roofer face to face. You can even invite them to your home so that they can scope out the job. You can talk things through with them as well as ask them any important questions that you have. This meeting can give you a true sense as to whether you want to hire them. Also, remember to ask for proof of a license and insurance.
Give Your Contractor the Full Details:
To avoid any complications or misunderstandings, plan out your roofing project. Make sure to relay this plan to the professional you've hired. Let them know what the roofing issue is, what needs to be improved, if there's been any past repairs or damage, etc. Also, as you make your plan, be sure to remember that a warranty is a crucial part of your installation. Be sure to check out our guide "What to Look for in a Good Roofing Warranty" where you can be briefed on what a good warranty looks like.
Get Everything in Writing:
It is essential that every job has a written quote. Work shouldn't even begin until there is a signed contract detailing every aspect of the project. This written quote should include safety procedure and liability, cost of materials, workers' compensation, timeline of completion, etc. This quote helps keep you and your contractor on the same page.
What to Know About Roof Pitch
When it comes to roof installation, installing a roof truss is an important step. Roof trusses are carefully designed and assembled roof frameworks. They are constructed of pieces that are bolted together to support the weight of roofing materials. Regardless of their size, trusses require serious lifting power because they are heavy and difficult to maneuver. You can learn more about roof trusses in our article "How Trusses and Rafters Are Built Differently". But the biggest take away regarding roof trusses is that they make it essential for roofers to use a crane on the job.
It is commonplace for professionals to have a crane as part of their equipment. One of the key benefits in using a crane is the increased safety. Using a crane to lift heavy pieces, such as roof trusses, reduces the risk of injury to workers as all the weight is taken by a machine rather than a team of workers. Using crane hire to install roof trusses also reduces the risk of damage to both the trusses as well as the surrounding materials, equipment, and property. A crane even proves to be a cost-effective solution since it ensures that the job will be completed as quickly and efficiently as possible.
Roofers typically use mobile cranes since they are designed to be moved from site to site as needed. They consist of a single lifting arm that can be raised or lowered. The type of mobile crane that tends to be proved as most useful is a boom truck. A boom truck is one of the most versatile pieces of equipment since it has several functions. A boom truck is especially useful for roof installations since their primary use is lifting. This type of crane is designed specifically for lifting heavy materials.
How to Select a Shingle Type
An important aspect of roof installation is selecting a shingle type that is the best suited for your home. To do this, you'll have to compare various materials, types, and styles. Some other factors to consider include your budget, the climate you live in, the structure of your roof, what design appeals to you, etc. There are quite a few shingle types to choose from. Some shingles are more expensive than others, some are better suited for certain climates, some are heavier than others, and so on. Here's a list of the types of shingles you can choose from:
Asphalt Shingles:
This is by far the most popular type selected by homeowners. What makes these shingles stand out from the rest is that they have a 50-year warranty, class A fire rating, a high wind rating and a high impact rating.
Clay Tile Shingles:
These shingles excel when it comes to style as they can be molded into different shapes, and they come in a variation of colors. They are often seen on houses that have a colonial Spanish or Mediterranean style.
Wood Shingles:
These shingles are unique and will give your home a classic appeal. However, they are difficult to install and require frequent maintenance.
Metal Shingles:
Metal roofing is known for its durability and endurance. This type of material can withstand a lot and is appropriate for most climates. The types of metal you can install include copper, tin, zinc, and aluminum. Metal roofing is almost on par with asphalt shingles which we discuss further in our article "Comparing Metal With Asphalt Shingle Roofing".
Composite Shingles:
These shingles are made of new and recycled plastics, wood, paper, asphalt, and fiberglass. They are on the expensive side, but they actually last longer and perform a little bit better than asphalt shingles.
How Much Does a Roof Add in Value
Your home's exterior makes a statement, and your roof is a crucial part of the impression it leaves on people. While roof installations may be costly, it is worth the investment especially if you put your home on the market later down the line. An old roof that is in poor condition will not attract any buyers. In general, a home that requires a lot of maintenance doesn't generate interest. If your roof needs a lot of work, you can expect a longer sale process. Buyers may even request for a roof repair or replacement. If such a request is necessary, then you may get a reduced price offer. Buyers are not going to pay much for a home in need of improvement. A newly installed roof can increase home value. You may not see 100% return on investment, but a new roof can make you more likely to get full asking price, faster sales, and smoother negotiations.
Contact the Roofing Experts at Go Construction!
Go Construction is one of the most trusted and prominent roofing companies in central Pennsylvania. Our customers get the best treatment for their homes. We provide homeowners with our expertise, high quality materials, and remarkable customer service. Our goal for every project including roof installation is to ensure your satisfaction. We're not satisfied until you are! If you have any questions or need our services, don't hesitate to contact us today!