Having an outdoor living space to call your own can add so much to your life and to the value of your house. Great moments with family and friends often start with a fantastic outdoor space to cook, socialize, and entertain while enjoying the mild temperatures of Pennsylvania. These outdoor spaces come in a few different versions like patios, porches, and decks. Here, we will explore what decks are and how you can take steps to having a deck to call your own.
What are Decks? An Overview:
Decks are flat, elevated surfaces that usually attach to a building and traditionally are constructed without a roof. This is not a rule however; some decks can come with a pergola or a canopy to help shade the outdoor area. Typically, you'll find decks made from lumber including cedar, redwood, and pressure-treated pine as these woods can provide an aesthetically pleasing structure to any home.
A patio, on the other hand, is a paved outdoor area adjoining a home that's mainly designed for outdoor dining or recreation. Patios typically exist at ground level, unlike decks, and are made from materials like stone, concrete, bricks, cobblestone or tiles.
Meanwhile, a porch is more similar to a deck, but has some slight differences; they are typically a covered living space that's built right at the main entrance of the home. Though the porch is external from the walls of the home, it is often enclosed in certain types of frames like screens, walls, or columns that extend from the main exterior. Like decks, porches tend to also be elevated off ground level.
Deck Shape Options:
A raised or an elevated deck is a deck that is placed higher above the ground. It does not Decks are fairly customizable, which gives you plenty of options to consider while designing the structure. Options include the materials the deck is made of, the height of the deck, and the general shape of the deck. Let's look at the options, weigh the positives and negatives behind each option, and find the optimal deck shape for you.
For the actual shape of your deck, there are five popular styles that people gravitate towards. There is no right or wrong choice here, but some of these deck styles may fit your property better than others:
Wraparound decks
These decks tend to be only slightly elevated and have room to be more uneven, with some large parts and some more narrow parts.  In a way, a wraparound deck could be considered an outdoor room attached to your house.  These decks are popular because they extend your living space, can provide wonderful air circulation on nice days, and will give you options throughout the day as far as sitting in the sun or the shade.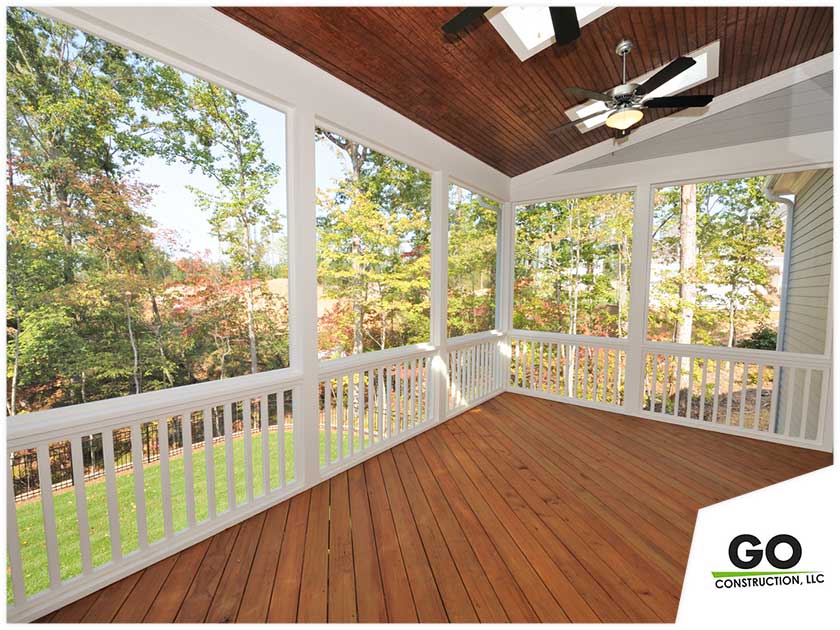 Multi-tier decks
This type of deck can be a life saver for some properties. Multi-tier, or two-story, decks are a fantastic option for large properties or properties that experience a lot of elevation changes. Slopes and rocky terrain may prevent other deck styles from being effective, but having a multi-tier deck connected by stairs and ramps opens up opportunities for even difficult properties to have a deck of their own.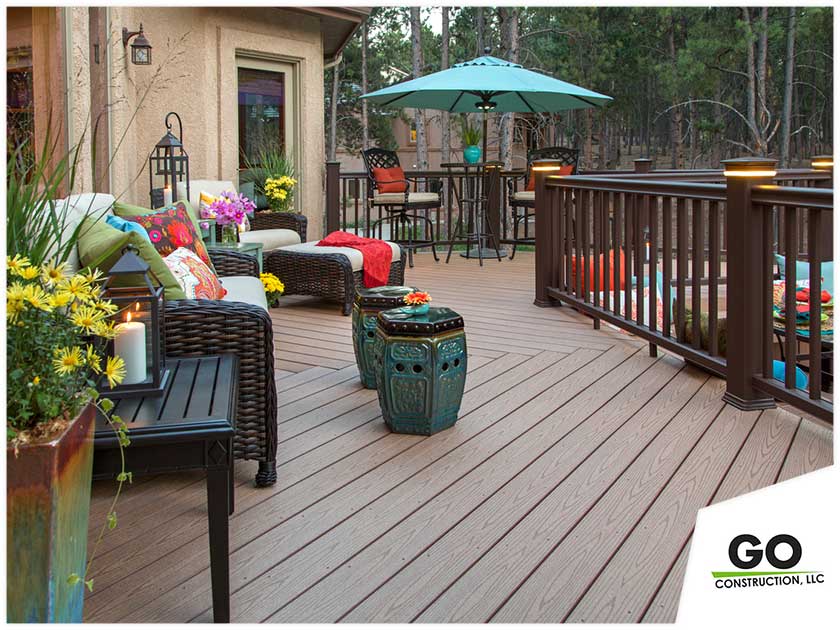 Attached decks
Attached decks are relatively tame compared to some of these other options, but are still a rock solid choice for some houses. More akin to a patio, attached decks tend to only be slightly elevated and are commonly found attached to the back of houses with an L-shape or U-shape structure. The big difference between a patio and an attached deck is the wood or composite material that is utilized in the construction of the deck. This option is great for extending your living space and is very easy to install a structure to create shade.
Detached decks
The opposite of the attached deck is aptly named the detached deck. This structure is also similar to a patio, but like all decks, is constructed out of wood or composite. Detached decks can be placed anywhere on a property and are usually connected to the main living quarters by a path of a staircase. Detached decks can really shine if utilized correctly as they can cover rocky, uneven areas of your property or areas with poor drainage.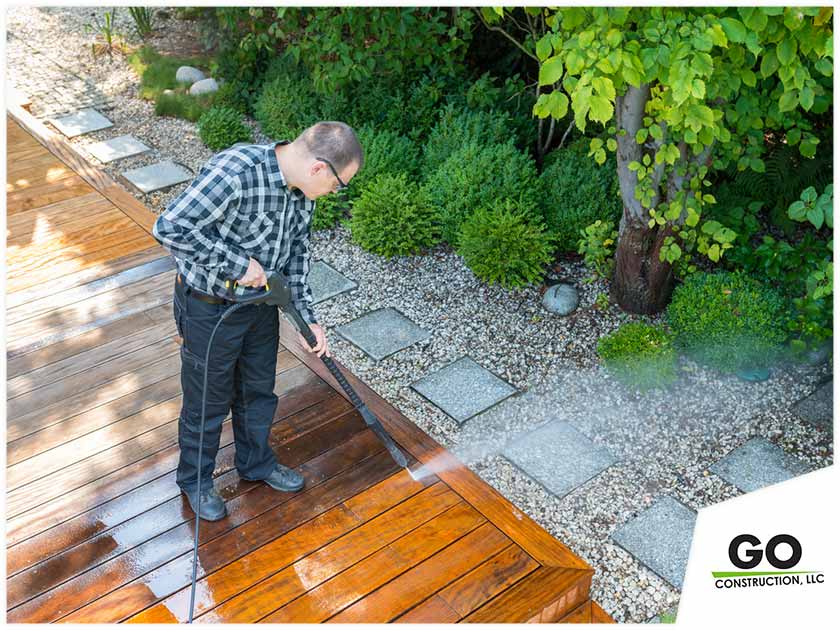 Rooftop/over-garage decks
This last deck option can maximize the space of your property, assuming your structure is capable of bearing the load. Naturally, these rooftop/over-garage decks are more common for those living in an urban environment where space is limited. These decks tend to be built higher than the other options, which can provide privacy and one-of-a-kind views.
Height:
The height of your deck can manifest in a few different ways depending on how you want the deck to flow with your building. Options here include being built low to the ground, raised, or on multiple levels. Platform decks are the most common style and are usually built on level lots. This height tends to be ideal for entertaining guests while also being safe for children with a sturdy safety railing. Decks can really be all sorts of heights, which makes it easy to fit the deck to whatever structure you're building off of/near.
Materials:
One of the first questions you'll encounter while choosing your newly installed deck is the material it is constructed out of. There are two major options that people gravitate towards:
Pressure-treated wood
Pressure-treated wood is the most popular option for wood decks. The lumber is treated with insecticides and chemicals containing anti-rot properties; these features will extend the life of your wood deck compared to wood that is untreated and exposed to the environment. Pressure-treated wood is popular for a reason; the material is generally very easy to work with. Also, if treated properly and maintained regularly, a pressure-treated wood deck can have great longevity. What's more, a pressure-treated wood deck is easily customizable with different wood stain options to fit your personal flavor. Another positive to pressure-treated wood is the affordability of the material. Typically, the wood is priced around $3-$6 per square foot, but this can vary depending on the grade of wood you decide to go with. We recommend spending a little extra for "choice", "premium" or "select" treated planks. These grades tend to be more durable and warp less. Warping can become a big problem for cheaper wood grades exposed to high levels of moisture. This will only reduce the lifespan of your deck and cost you more money.
Composite
Composite material is another fine option to consider when building a deck. Composites are generally made of low-density polyethylene (LDPE) and wood, though sometimes composites are constructed out of rice hulls, high-density polyethylene, and other various materials. These materials, however, are usually recycled making a composite deck environmentally friendly. Some brands use up to 95% recycled material for their composite while experiencing no effect on durability. Composite decks have a few features that make them an extremely attractive option for some. Beyond just being extremely resistant to environmental conditions like mold, mildew, and rot, composite decks also come in a variety of colors and are very resistant to scratches. On top of that, composite decks require far less maintenance compared to their pressure-treated wood counterparts, but are still extremely durable. Pressure-treated decks will require far more time and expense to maintain than composite, which just requires an occasional wash to keep it clean. As far as price goes, there is a lot of variety in what composite material will cost. You can expect to find prices from $5 to $13 per square foot. And while on the surface composite may cost more, the reduced effort and cost of maintenance may make a composite deck cheaper in the long term compared to a similar pressure-treated wood deck.
Things to Consider Before Construction:
The design of your new deck is quite important to how well it functions and how aesthetically pleasing it is. These are things to consider before construction: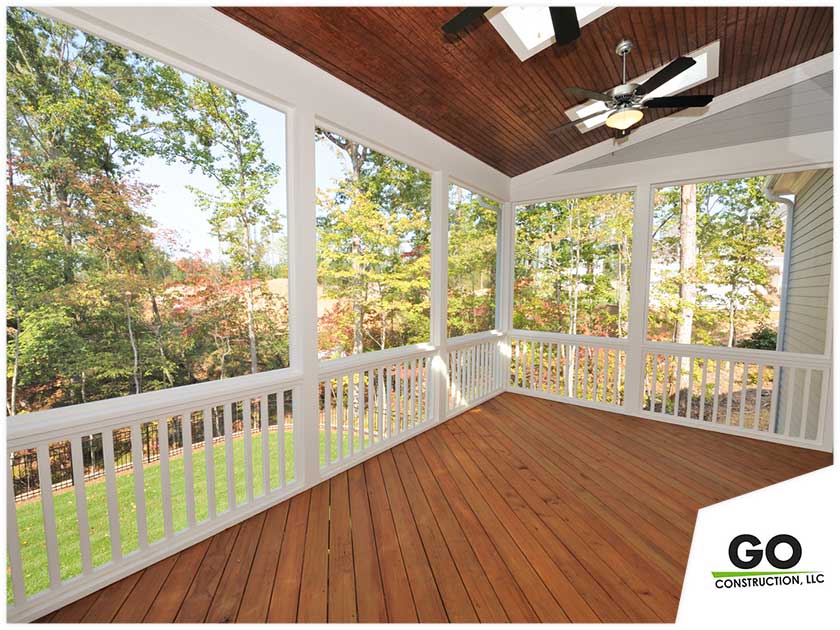 First, think about your priorities for how the deck will function. Are you building a deck for dining and BBQs? If so, you will need enough room for a grill, table, or, perhaps, a mini-bar. Meanwhile, if you want to create a peaceful oasis where you can unwind, you might want to focus on the view and privacy. Having your priorities straight will help you narrow down your options when designing a deck.
Choose the right materials for you! We generally laid out the different options for the materials between pressure-treated wood and composite. Consider what aesthetic you desire from your deck, whether that is a more natural wood look or one of the variety of colors carried in composite materials. Also consider how much maintenance you want to put into your deck. Pressure-treated wood will require much more upkeep than that of composite. Take note of the placement of the deck, as well, and how much sunlight it will or won't receive. A deck that is going to be out of the sun often may have more exposure to moisture, which may indicate that you should utilize composite for a building material.
When considering placement of the deck around your house, picture how your landscape fits around it. Strive for the best views and integration with flower beds or other aesthetically pleasing features around your property. This will help improve every angle of the deck experience from looking at it from a far and looking out far from the deck itself.
As with many structural projects like a deck, you must consider the soil type that you're working in. For example, loose and sandy soil will erode more quickly than other soils and will have a negative effect on the deck posts. Clay soil, on the other hand, may require additional drainage to properly divert rain water quickly running over the soil. Loamy soil, while good for plant growth, may require concrete footings depending on local building codes.
Keep in mind too that if your deck installation sits at the same level as your home, it can become easy for water to infiltrate your home and cause damage. Over time, water can rot away at your house and eat at the foundations.
How to tell if your deck needs to be replaced:
Overtime, every deck of every material will accumulate wear and tear. To ensure the structural integrity is up to par and that your deck is safe, keep tabs on the following:
Gaps between the deck and your house is a tell tale sign that your deck needs repairs. Your deck is attached to your home via ledger boards and if these boards are damaged, the weight of the deck and gravity can cause the entire structure to lean. Naturally, this is a big safety hazard; people can easily trip in the gap and sustain an injury. What's more, this gap and lean can cause the entire deck to collapse without warning.
Erosion around the posts is also a sign that your deck needs to be repaired or replaced. Reach out to a deck expert on how to proceed; maybe you need a new approach to anchoring the posts. This will reduce the risk of your deck destabilizing.
Similar to checking the erosion around the posts, make sure you also are checking for any rot on your deck. If you spot any rot on the posts, stop using the deck right away as the structural integrity has been breached. A deck with rotted posts is liable to collapse at any moment without warning.
Creative Upgrade Ideas for your Deck:
You can easily spruce up a deck with a few different features. For example, hidden fasteners are a small addition that can have your deck looking a little sharper. Deck screws can leave tiny depressions that splinter edges and trap dirt, which can create a dirty look on your deck.
Style your deck with planters to add more texture and functionality to your deck. Planters can be used to split up certain areas on the deck or simply provide some nice color and life to your outdoor space.
Railings are an important structure on any deck. Beyond the aesthetic, these also need to be functional to have a safe deck. Cable railings are a popular choice because they look sharp, don't obstruct your view as you look out, and still provide that safety around the edges.
Contact the Pennsylvania Decking Experts:
Need an expert to install a new deck on your property? Look no further than Go Construction Services, LLC, your leading service provider when it comes to deck replacement and roof repair projects in the Pennsylvania area. As one of the most reputable decking, roofing, and gutter companies in the area, your property is in good hands with Go Construction Services, LLC.